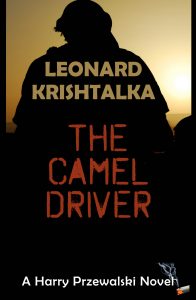 New Hard-Boiled Detective Series Uncovers Bones, Bodies & Murder!
A fiercely intelligent crime drama …
Emotionally sharp … historically inventive poetical elegance
~Kirkus reviews
In the third book of the series, The Camel Driver, a world-famous museum diorama is vandalized– the glass smashed, the belly of the taxidermied camel slit open, a bundle removed. Is there a skull, skeleton & skin mounted under the camel driver's clothing? Harry uncovers the macabre history of the exhibit: a lurid, sexual trial in South Africa, a secret journal in the Paris Museum, a Neanderthal infant, and an archaeological bombshell worth murdering for.